The Stag 3 knife set is now the standard and is being used wordwide. Everthing is good about these knives. They are used by Pop Haydn and most other professionls. Everyone who has them is in love with them. They are the Best... The set consists of a White knife, a Black Stag knife, and a White/Black Stag knife. Price is 120.00 This set is by far the very best for most all knife routines....
Check out more special knives below...
For those who want really special and unusual knives, check out the following knife sets ....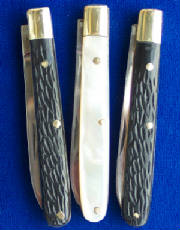 This is another exotic set of Mogar Knives..NEW STAINLESS STEEL STAG AND MOTHER OF PEARL MOGAR's DELUXE STAG KNIVES Price $170.00 The bolster and body are Stainless steel in place of brass.
This set is the BEST SET You can buy.
You will Love these Knives.....
MORE SPECIAL STAG SETS BELOW
Mogar Stag knives are Real Knives and are a joy to handle. You will feel proud to work with these High Quality Knives. The Stag Handle allows to to tell which knife you have just by the feel in your pocket. No need for special holders...
Mogar Knives with stag on other side
MAGIC STARS STUDIO