MOGARS FANTASY KNIVES is a Great Routine and includes 5 knives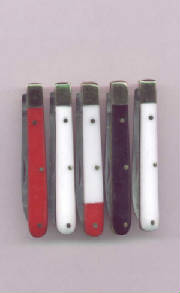 Fantasy Knives $150.
This has been a very popular set and is priced at only $150.00.The package consists of a Black/Black, White/White, White/Black, a White/Red/ VC knife and a Red/Black. Also included is a Pocket Holder, a Velour pouch, Written and illustrated Routine instructions. Your audience will really enjoy this one.. This set will give you all the knives you need for most all the routines you will see.
The Fantasy Knife Routine starts out with a VC knife, Then goes into a 3 knife routine and ends with a final Black to Red Knife
NEW Set is now available Stag Fantasy Knives...
Same as above except that the Black knives have the Black Stag Finish... Price $180.
.....You can also get a Standard 3 knife set consisting of Black, White, and White/Black. price is $90..00.... You can also get this 3 knife set in White and Red for the same price $90.00
MOGARS MAGICAL 3 KNIFE SET
.
MOGARS MIRACLE KNIFE ROUTINE
This is a very good routine starting with visible change and finishing up with a fast moving 3 knife routine. The set consists of the following 4 knives. White, Black, White/Black, and the White/Black VC knife. Price $120.00
Technicolor Knives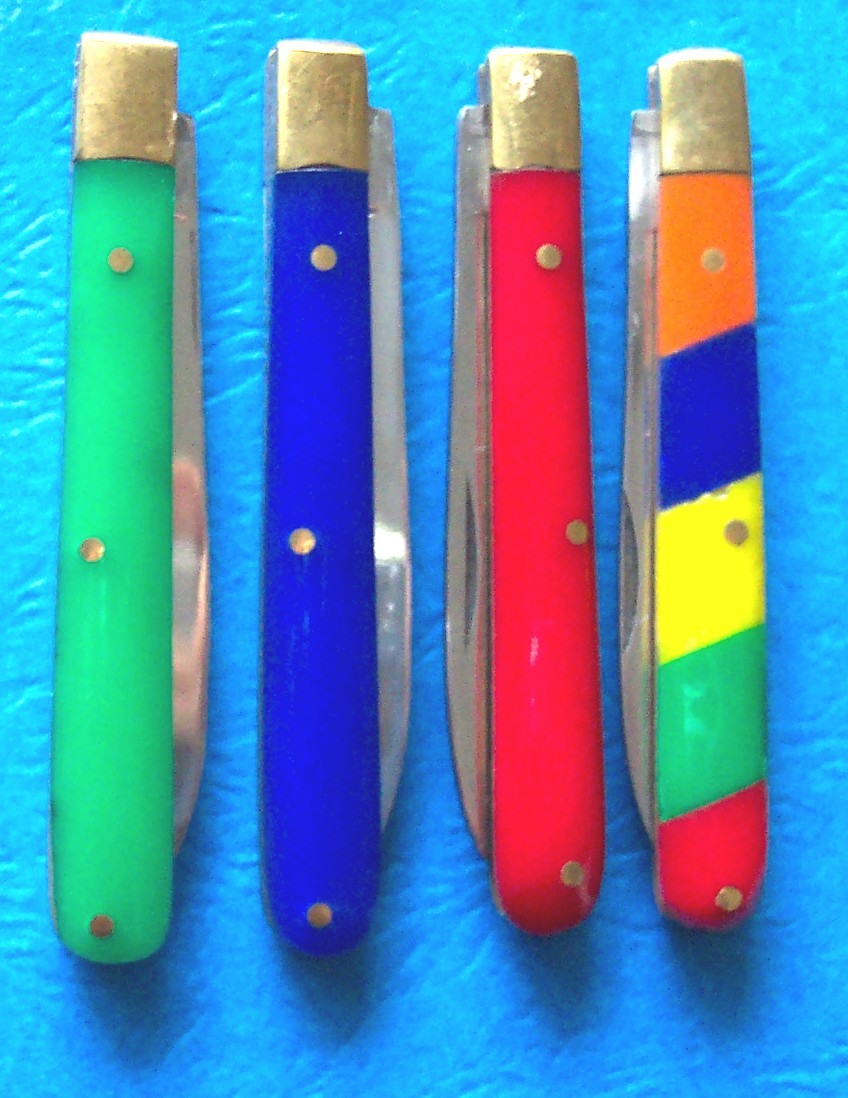 The knives in this routine are White/Blue, White/Green
Red/Blue, and Rainbow. The White sides are not shown in this photo.
5 quality silks are included White, Blue, Green, Red, and a beautiful Rainbow silk.
This is one of my favorite routines that I use for a group of people. It is based on an idea and routine by Robert McDaniel of Texas.
The Effect: A White knife is shown. A white silk is rubbed on the knife to clean and polish. A Blue silk is picked up and rubbed on the knife and the knife changes to Blue. Another White knife changes to Green. A Red silk is picked up and rubbed on the Blue knife. The Knife changes to Red.
The 2 knives are touched together and they change back to Blue and White. The White knife is put away.
Next a Rainbow silk is shown and the Blue knife placed in the center. The knife changes to a Rainbow for a great surprise climax. You can hand out the Rainbow Knife. This is a very nice effect and the routine comes complete with 4 special knives and 5 beautiful silks.
This is a really good routine and plays very well.
You will get a great response from the audience....and you can perform the routine on a stage or close-up.....Price $160.