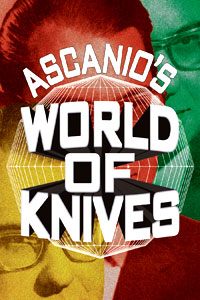 The
Color-Changing Knives
is a magic classic. Generally credited to Walter Jeans it became a popular pocket trick in the 1930s.
In 1958 Arturo de Ascanio, who went under the stage name Marcus, wrote the definitive book on the subject in Spanish. In 1975 Jose de la Torre released Ascanio's World Of Knives in English which helped make the routine a staple of every close-up magician's act.
The book was also one of the first Spanish magic books to be translated into English, introducing the genius of Ascanio to magicians around the world.
After being out of print for decades Ascanio's World Of Knives is back and is better than ever, with many clear photographs and illustrations that make all the techniques and routines easy to learn. This book teaches you the many tools you need to create your own routines with pocket knives that change color on command.
Techniques and routines include: Classic Paddle Move (Modernized), Cleaning Paddle Move, Passing The Knife From Hand To Hand, Appearance By The Pinkie, Turn With The Ring Finger, Ultra Fast Turn, Classic Color Change, Ascanio's Half Turn, Bringas' Color Change, Ganson's Color Change In A Spectator's Hand, One Hand Color Change, Color Change With Normal Knives, Manipulating The Knife As A Cigarette, Push-Through Palm, Two Fu Manchu Passes, Stealing With A Pull, Change Of Normal Knife To A Gimmicked One, Ascanio's Fast Change, To Tell The Sides Of The Knife By Touch, A Knives Classifier, Three Psychological Procedures, Psychological Aspects Of The Color Change, A Fred Kaps Routine, The Handkerchief Pass, A Short And Easy Routine, Ascanio's Knives And Color-Blindness and much more.
The main reason the Color-Changing Knives are a classic of magic and a staple of many professional close-up magicians' repertoire is that you are able to create beautiful and visual magic with ordinary objects. Once you learn these techniques you will never leave home without a set of Color-Changing Knives in your pocket.
Second edition published by Meir Yedid Magic in 2011. 144-pages with more than 50 photographs and illustrations, 6"x9" softcover with color cover. Written by Ascanio, translated by Jose de la Torre, with additions by Jose de la Torre, Slydini, David Bamberg, and Meir Yedid.

Price $20.



Very Special price on these Dr. SAWA DVD's $ 145 for the complete set of 6

The Professor, Dai Vernon, summed up Dr. Sawa this way:

"One of the most creative magicians I have ever known. As the saying goes, you have to see it to believe it-and even then, you won't!" Find out why.

When Dr. Sawa burst onto the magic scene back in the 1970s, he caused an international sensation. His work with paper, seashells, ropes and especially coins, was simultaneously whimsical and astonishing. Some years ago, for private reasons, Dr. Sawa vanished from the magic world. Happily, he has resurfaced-his enthusiasm for magic not only renewed, but actually increased.

L&L Publishing is proud to present this multiple-DVD set, containing almost fifty new and astonishing coin routines on a total of six DVDs. $34.95 each Discounted price $20.00 each
Each DVD includes many unusual and never before seen moves and routines.
We have a very special price for our customers of only $100. for the complete set of 6 Brand New DVD's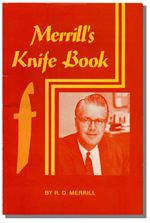 ...The Merrill Knife book is a must for all knife workers and is only $15.00..This book covers all types of moves and is loaded with many photo's.....( OUT of STOCK )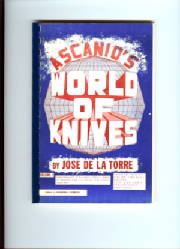 Scarce and hard to find Ascanio Book on Knives. The price is $60.ea.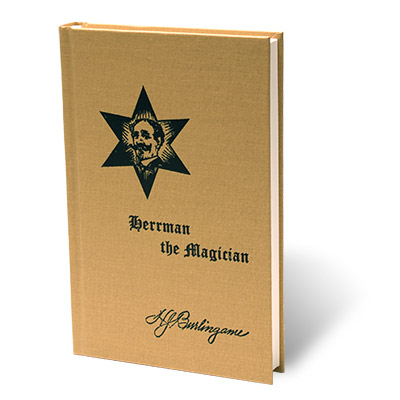 Herrmann The Magician
by H.J. Burlingame

BACK IN PRINT!

NEW EDITION

Magico reprints "Herrmann the Magician - His Life; His Secrets" book.

Includes an Introduction to the New Edition by Barrie Richardson.

Pages 294 - Hardbound This is brand new only 400 copies printed
Get yours now at discounted price of $39.00





DESCRIPTION
The Magic of Ascanio Book Vol. 4 "Knives and Color Blindness"
by
Arturo Ascanio
Arturo de Ascanio y Navaz (1926-1997), is regarded as the father of Spanish card magic. A lawyer by trade and an amateur magician, he devoted a good part of his life to magic and was one of the founders of the prestigious Escuela Mágica de Madrid.
The Structural Conception of Magic, which is the first volume of The Magic of Ascanio, is devoted to his theoretical thinking. Studies of Card Magic and More Studies of Card Magic include all of his card creations, while the fourth volume Knives and Color-Blindness is a treatise on magic with pocket knives.
Fourth Volume
Knives and Color-Blindness is not just a repertoire of sleights and routines. Above all, it encapsulates an extraordinary philosophy of magic, in which the love for detail, for naturalness and psychology alike, are given as much importance as technical skill. Ascanio's remarkable in-depth study of the psychological aspects of the "Paddle Move" and the "color change" with knives is a fundamental contribution to the magic of the color-changing knives. Arturo de Ascanio shows two specific qualities that very seldom go together: he is an extremely clear writer and also an excellent performer of sleight-of-hand. You will no doubt find that Ascanio is very good at writing about what he knows, and knows very well what he is writing about.
Discount Price $39.00
reg price $45.00
Pages
132 - Hardbound w/ Dust jacket
We carry all of the L&L DVD's..Plus most others. Too many to list here. Let us know which ones you want. We will quote you a very good price...
This is one of the latest...You can get the knives from us
Color-Changing Knives DVD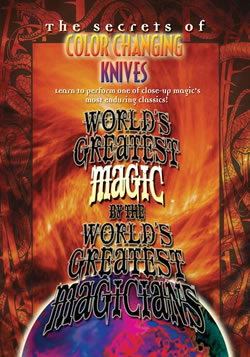 price $15.00
This is a brand new DVD by L&L which shows several color-changing knife routines. The routines shown are good and you can use Mogar Knives to perform them all.This DVD is priced at only $15.00
The Following Routines are included:
Walk Around Knives – Bill Malone
Color Changing Knife – Johnny Thompson
My Penknives – René Lavand
Color Changing Knives – Steve Draun
Daryl's Color Changing Knives – Daryl