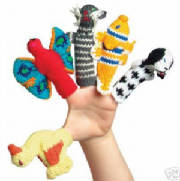 Finger Puppets hand knitted in the mountains of Peru. Made from 100% yarn and filled with 100% cotton, these hand knit puppets are great for story telling and entertaining. You will have a lot of fun with these puppets and they are especially good as gifts. The price is only $1.00 each. . We have many different animals in stock. Not all the animals are in stock. We have sold out of
several of them.
You can pick from the following animals. Hippo, Dalmation, Pig, Kangaroo, Sheep, Zebra, Penquin, Monkey with Baby or we can mix in some different animals
We have many more different animals.
...