The See-Thru Knife will give you a terrific climax for any of your knife routines. The knife is standard with the exception that you can see through the clear handles. The handles have no color and you can see the complete knife all the way to the liners. The pins can be seen.
When you switch in this knife you will have a very good climax that your spectators will believe. You tell them that the knife has changed back to it's original state without colors. Hand it out and they will try everything to get the knife to change to a color. This will be the best $25.00 that you can spend for this great finish... You will love it. Price $26.
Thanks to my friend Marcus Wilhelm of Germany for this very clever idea... The See-Thru Knife..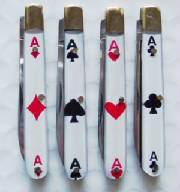 PERFECT ACE KNIVES have an Ace on the top side and White on the bottom. These are ideal for all the 2 knife routines and can be incorporated into various other knife and card routines.
The Perfect Ace knives are available in a 2 knife set. You get a Perfect White knife and a Perfect Ace knife. You pick the suit. For $50.00.
The complete set of 4 Perfect Ace Knives are $100. When you buy the complete set, we will also include a free Perfect White Knife. You will receive 5 Perfect Knives for the $100. With these knives you will be able to come up with routines that are new and entertaining.
.Click on pictures to enlarge......