We carry all types of card decks and card magic including Forcing Decks. Let us know what you need...
NEW ULTIMATE MARKED DECK $ 25.00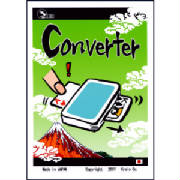 DESCRIPTION

Effect

A spectator selects a card, and returns it to the deck. Another card is taken from the deck, and inserted at the middle of the deck from the side. When the card comes out from the other side of the deck, it is changed to the card that the spectator has selected!

Comes complete with gimmick and detailed instruction sheet in English and Japanese languages. Price $25.00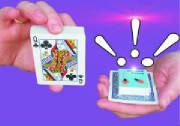 Production Deck
The magician takes a deck of cards out of the case, shuffles and cuts the deck and a matchbox magically appears right between the cards!

You can make any small object appear between the cards (a folded card, a prediction, dice, a small lighter, a key etc.).

It is a good idea to make a duplicate object disappear prior to the trick
Price $40.
The Same Card

Performer has a spectator FREELY select a card from an ordinary deck of cards. Without looking at it, the performer tables the card face down and brings out a small leather business card wallet from which he removes his business card and a dollar bill. "On the back of my business card is a prediction. If the prediction does not match the card you selected, you win the cash!" The spectator perks up as the performer places the selected card face down inside the wallet, leaving the side of the card protruding from within the compartment.

"Would you be impressed if the same card was written on the business card?" asks the performer. The spectator agrees, and the performer turns over the business card to reveal the words, "THE SAME CARD!" ... "actually," says the performer, "the real prediction is written on the back of the money. Turn it over and see for yourself."

The spectator turns the bill over and the words, "Four of Clubs" is written on the bill. The performer calls attention to the selected card in the business card wallet. Taking it out slowly and dramatically, he turns it over to reveal the Four of Clubs! It's the same card indeed!

This beautiful, ingenious piece of close-up mentalism comes to you with the special leather business card holder and detailed instructions. You'll have so much fun with this, you'll never put it down! Price $25.00
Rising Cards. This is a precision deck that allows you to cause 3 selected cards to rise from the center of the deck. self contained. Price $20.00