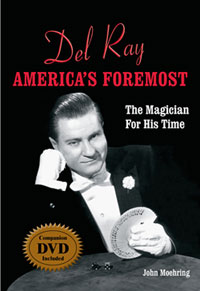 448-page hardback with dust jacket
Over 200 photographs and illustrations

Includes DVD


Just released! Del Ray, America's foremost magician, his life and secrets finally revealed.

Del Ray was considered the most innovative magician of the 20th century. Secretly intermingling technologies with traditional trickery, he performed miracles of magic that were unlike those of any other magician. Throughout his life, he passionately guarded the secrets of both his professional and personal affairs. Because Del Ray remained steadfast in his refusals to ever discuss or share his magic, his magician friends and fans feared that a book on his life would never see print.

Now, seven years after Del Ray's death in 2003, through the gracious efforts of the publishing partnership of Bob Escher (who was bequeathed the Del Ray collection), David Baldwin, and Bill Spooner, the book has become a reality and a welcome addition to magic history's literature. Having complete access to the Del Ray archive, which included his personal scrapbooks and memorabilia as well the ingenious magic that Del Ray created over the years, author John Moehring has crafted a volume that is both insightful and revelatory.

Part One traces Del Ray's career in magic beginning with his adolescent years in an orphanage where he performed his first paid show for $3, to his meteoric rise to fame in the 1950s as America's most successful nightclub magician ever, to Del Ray's development of a stunningly modern approach to close-up magic that enabled him to demand fees as high as $10,000 a week. This remarkable story is illustrated with 116 vintage photographs. Told with exacting detail and a reverence for the master's secrets, the biography section of Del Ray: America's Foremost is a celebration of the personality, the achievements, and the genius that made the magical world of Del Ray unique.

Part Two focuses on a selection of eight of Del Ray's favorite close-up routines. Gary Plants has written detailed descriptions for seven of these effects: Half-dollar Through Ring, The Bet, Blackjack Deal, the Computer Deck, Gymnastic Aces Without Aces, Final Aces, and Del Ray's Card Stab.

Eighty original photos of Gary's hands executing the sleight-of-hand maneuvers accompany his explanations. The Royal Assembly, a Del Ray effect originally written up by Ed Marlo in 1954, is illustrated by Jay Marshall. This secion also includes two pages of acknowledgements, and a comprehensive Index.



You will Love this book

All can be yours for just $68.00

If you want one, Please order now...

Only one left in stock..

All Sold Now out of stock.