NEW PK RINGS
$40.00 ea
These PK rings are better than any others that I have seen.They look just like a standard wedding band.The rings have a strong magnetic field. This advanced PK ring will help you perform miracles.These rings are available in the following sizes: 7, 71/2, 8, 81/2, 9, 91/2, 10, 101/2, 11, 111/2, 121/2, 13, 131/2, 14, 141/2, 15, 151/2, 16.....I wear a size 13. It feels and looks great. Make sure of your ring size before you order. I can let these rings go for the Special Price of $40.00 ..This is a super good price for these high quality rings and I am not sure how long I can keep this low price. Order now for just $40.00 each. These rings are available with silver or black finish. These are the best finish and it will outlast all others. The Gold finish does not hold up on any of the PK Rings, for that reason, I do not sell them. I don't want any unhappy customers...
Note NOT ALL SIZES IN STOCK....
I also have stronger rings with a Black Finish that are N50. If you want the most powerful ring with over twice the strength, then the N50 is what you want. This is a heavy duty ring. Price is only $40.00 ( Not All sizes available ) Check with us before ordering....Please take note that all PK rings might break if they are dropped or hit hard. We cannot be responsible if a ring does break...
..
We have sold hundreds of these rings at recent conventions, Our customers are very happy with the rings......
You can buy a set of quarters that will work perfectly with your ring. You will receive a steel shimmed quarter and a magnetic quarter for only $45.00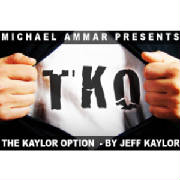 DESCRIPTION
Step Into the Ring with One of the Most Powerful Utility Items To Date
TKO
is a brand new utility device created for the serious magician. Vanish small objects instantly, and produce them effortlessly. Transform an average trick into a clean and extremely deceptive piece of magic. Roll up your sleeves, and step into the ring. This is the
TKO
by Jeff Kaylor
List
Price 69.95 Special Sale price $29.
Joan at our next convention booth
click on pictures to enlarge