Walking Liberty Coins
Expanded Shell price $95.
Shimmed coin price $80.
Magnetic coin price $85.
Split Coin price $90.
Copper/Silver coin with English Penny price $60.
Expanded Shell Set with 4 coins price $185
Gravity Flipper price $146. SPECIAL SALE $65.
DVD Crafty Power. Miracles with Super Strong Magnetic Coins. Price $30.
.
Kennedy Silver Half Dollars 1964
Expanded Shell $95.
Split Coin price $90.
Magnetic Coin $75.
Expanded Shell Set with 4 coins price $195.
Copper/Silver coin with English Penny price $60.
English Penny
Split Coin $50.
Steel Core Coin $30.
Expanded Shell $35.
Half Dollar
PRO Gravity Flipper price $70.
Expanded Shell $35.
Expanded Shell Set with 4 coins price $45.
We have Jumbo Coins:
3 inch Dia and Shiny.
Not the Dull ones.
WALKING LIBERTY
KENNEDY HALF
EISENHOWER DOLLAR
PEACE DOLLAR
MORGAN DOLLAR
COPPER PENNY
THESE ARE $6.00 each
.
Super Chameleon Power (with 2 DVD'S) by Johnny Wong
This is a new Special Edition Price $115.00
Super Chameleon Power is the latest product from Johnny Wong 2013.

It is a multifunctional coin gimmick which you can use on many different occasions.

This gimmick set comes with a card, a specially crafted US half dollar and a regular old Chinese coin.

Everyone can operate this coin gimmick with ease to perform excellent magic tricks near to perfection.

The DVD comes with a variety of demos that will guide you through the following routines:

Coin thru the bottom of glass cup
3 Coins disappear and reappear
Unique 3 Coins fly into glass Cup
3 Coins with a card Illusion routine
Amazing Coin Finding Cards
Coin Quick Penetration Glass Cup Illusion
Coin Penetration: From back of glass table into glass cup
Unique Quick change

Every routine is also made more powerful and easier through the use of these precisely made US half dollar Coins & Chinese Coins.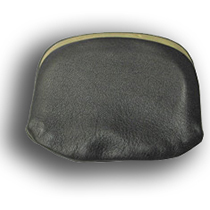 This are the coin purses that everyone seems to love.
I sold all that I had at Magi Fest and the Combined convention
I have more in stock for $10.00 each.
Below are 3" Jumbo Coins
These coins are good quality
and have a bright shine
PRICE $6.00 each
Don't confuse this coins with the cheap
dull grey ones on the market.
WE also have MORGAN DOLLARS for SAME PRICE
Below are more DOLLAR SIZE COINS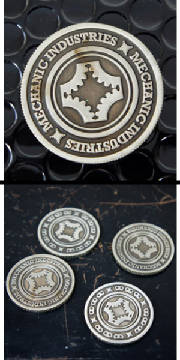 NEW DOLLAR SIZE COINS and HALF DOLLAR SIZE COINS
Poker chip style coins for the serious coin magician. Expertly designed and produced in copper, this soft metal is perfect for coin magic.
These coins have low 'talk' noise and the milled edges offer excellent surfaces for gripping, whilst maintaining effortless glide properties across other coins. These coins are specifically designed to age and wear, the more you use them, the better they will look..
Full Dollar / Diameter: 39mm - Thickness: 2.7mm
Antique Bronze or Gun Metal grey Finish
100% Copper
Low 'talk' noise
Smooth glide
Specify Bronze or Grey Color $8.50 each
Half Dollar Size
Diameter 29mm thickness 2.7 mm
Specify Bronze or Grey Color $6.50 each
Octopalm
You can now accomplish in your two hands, what would normally take eight.

Octopalm: Anti-Gravity Gel is a new way to stick just about any lightweight object to your skin, without the sticky residue. No more double stick tape. No more glue dots. No more sticky adhesives. No more tacky wax.

Octopalm is the most revolutionary adhesive since magician's wax. This is a completely new chemical design that, when applied in small doses to the skin, can give you the abilities of a gecko's touch by adhering small objects to your hand, arm, fingers, even your forehead. Objects want to stick to YOU. No sticky residue means you have the freedom to produce, vanish and change small objects at will, like never before.

Ever wanted your skin to be magnetic to just about anything? Solved. Ever wanted to quickly hide a coin on the back of your hand? Easy.

Touch your skin and it feels smooth. Press a coin to it and it fuses to your hand like superglue. Take the coin off to find no sticky leftovers. The uses are endless.
New, never before seen utility item
When applied to the skin, it adheres almost any small object
Provides gecko-like ability to do impossible tricks
Leaves skin smooth
Thousands of uses - possibilities are tremendous
Packs small
Far superior to skin adhesives like wax, glue dots, double stick tape
Easy to apply on the fly
Long lasting - A little goes a long way $9.00