***************
This folding coin is a precision coin. It is perfect for all the folding coin routines. Black color only. price $35.
The Okito Box is made for all the Chinese Coins. They fit perfectly. The box has a nice silver finish. price $25.
The Black coin is shown and the spectator is asked to pull up on the top of the coin, he does and it stretches.It is then examined. price $35.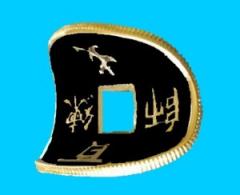 Coin Bend...A coin is displayed to be a normal coin. The finger is pressed to the center of the coin and held there. When the finger is removed the coin is bent in the middle. coin is handed to spectator. Price $25.00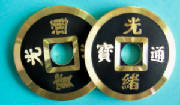 Dollar Size Chinese Coins. This are beautiful Chinese coins machined from Brass and have a very nice Black finish. price $20.ea ( out of stock )
Dollar Size Chinese Shell. This is a precision matching shell machined from brass. This shell also fits perfectly over a Morgan Dollar. Price $39.ea
NEW
More Dollar size Chinese Coins Below
These are thin Chinese Coins price $9.00
silver finish with milled edges
Matching shell price $30.
Shells are double sided.

The Coins below are available in Dollar size for $8.00 ea. and half dollar size for $6.00 ea. These are beautiful coins and are same dia. as regular US coins.
Stamped shell ( not machined)for half dollar coins is $6.00